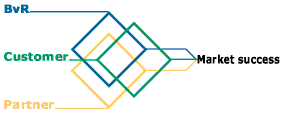 In an increasingly competitive economy, quality and cost play a more and more important role in the manufacture of technological products on national and international markets. High professional competence in these sectors is the order of the day. However, due to increasing costs, many companies struggle to complete all production steps single handed. In this case, specialization is the sensible path. 
BvR electronic focuses on its core mission of offering complete electronic services in industrial quality while maintaining competitive prices and short delivery times. Our experienced employees combine their concentrated know-how in electronics, from elaboration of specifications, through development, procurement, manufacturing and shipping. We gladly contribute to tackling any problems with innovative and competent solutions. We realize your wishes cost effectively.
For us, quality means more than just a mere lip service, but constitutes our philosophy. Therefore we are certified according to DIN ISO 9001 since February 1997. In our manufacturing unit we work with state of the art equipment and exclusively antistatic workplaces.
We contribute to the success of our customers products through the consequent implementation of our quality guidelines.